Welcome to Thompson's Pharmacy
We are a locally-owned community pharmacy dedicated to providing outstanding customer service at an affordable price.
Our goal is to provide the highest standard of quality and service. To do this, we strive to provide the Coweta County community with excellent care, discounted prescription medications, and a host of other great services.
What makes us different from the larger chain pharmacies is our love for the community we serve. Our mission at Thompson's Pharmacy is to offer top of the line patient care in a hometown atmosphere. As a family owned and operated pharmacy, our team consists of excellent pharmacists, pharmacy technicians, and staff who call the Newnan area home. It is our pleasure to offer top of the line services to the people we call friends, family, and neighbors.
Thompson's Pharmacy is proud to be your source for all of your pharmaceutical needs. We offer a wide variety of services including conventional prescription filling, medical supplies, compounding, immunizations, delivery in Coweta County and much more. We also offer a wide selection of cards and gifts that are perfect for any occasion. Visit us today to find out how we can help you.

Trey Thompson, Pharmacist
In 2020, Trey became the owner of Thompson's Pharmacy, formerly Lee Goodrum Eastside Pharmacy. Prior to purchasing the pharmacy, he worked at Lee Goodrum Eastside as the compounding pharmacist and has extensive knowledge of customizing medications for specific patient needs. Trey graduated from Mercer College of Pharmacy in 2015.
Trey moved to Newnan, Georgia when he was 10 years old. After graduating from pharmacy school, Trey and his wife, Laura, moved back to Newnan and started a family. They have 3 kids: John, Nora, and Jack.
Trey loves being a pharmacist and helping others. When he's not working, Trey enjoys spending time with his family and friends, grilling, and college football.

Stephen Hammond, Pharmacist
A native of Moreland, Stephen graduated from Newnan High School in 2005. He earned his Bachelor's degree at Mercer University majoring in Spanish. In 2013, he became a "double bear," earning a second degree from Mercer, graduating from Mercer College of Pharmacy and Health Sciences.
After college and pharmacy school, Stephen and his high school sweetheart, Katie, moved back to Newnan. They now have two sons John and Kip with a goldendoodle named Henry. Stephen previously worked at CVS for nearly 14 years, and he is so thrilled to be able to take the time to serve his local community and help his patients at Thompson's.
Stephen loves traveling with his family, playing golf at Newnan Country Club, grilling, and watching sports, especially during fantasy football season!

Dennis Gaddy, Pharmacist
Dennis graduated from Mercer College of Pharmacy in 1979. He has been a pharmacist in Coweta County for over 40 years, and he works at Thompson's Pharmacy part-time and as needed. Dennis is always helping someone in our community, whether at work or in his free time. He has had a large impact on so many in our community, including our family.
In his free time, he spends his time with his family, travels to the lake, and you can often find him helping others with home renovations

Laura Thompson
Laura Thompson graduated from Mercer University law school in 2012. After graduation, she and Trey moved to Newnan Georgia where she began practicing family law.
While Laura deeply enjoyed helping families through difficult times, she has found happiness working alongside her husband and the pharmacy staff. In her free time, Laura loves spending time with her children, family, and friends.

Susanne Gajadhar, Pharmacy Technician
Susanne has been a pharmacy technician for over 20 years. She has worked at different pharmacies in Newnan Georgia, and we are extremely blessed to have her here at Thompsons. Susanne brings a high level of expertise, patience, level-headedness, and kindness that is invaluable to the pharmacy. She goes above and beyond to help others.
When Susanne is not working, she enjoys traveling and spending time with her husband, family, and friends.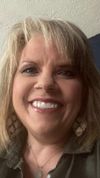 Nancy Duffey
Nancy has been with Thompson's Pharmacy/Lee Goodrum Eastside since 2009! If you've ever shopped with us, you've met Nancy. She is hard working and willing to do so much for the pharmacy to keep it running smoothly. You'll find her greeting customers as they walk in, helping customers check out, or organizing prescriptions. Before heading home for the day, she makes sure that everyone who needs a delivery gets their prescription. We don't know where we'd be without Nancy.

Ricky Burdette, Certified Pharmacy Technician
Ricky is the compounding pharmacy technician at Thompson's Pharmacy. He has been a pharmacy technician for 25 years and he has worked at different pharmacies in Newnan Georgia. He is brilliant, quick witted, and an amazing part of our team. You won't normally see him up front since he is almost always in the compounding lab. But if you have compounds that you get filled with us, Ricky is your guy!
Ricky enjoys bowling, music, and spending time with his wife, son, family, and friends.

Misty Taylor, Pharmacy Technician
Misty is a full time pharmacy technician here at Thompson's Pharmacy. You will find her up front kindly meeting with customers and helping in every way that she can. Misty is extremely hard working, patient, funny, compassionate, and dedicated to helping those who need her.
When she is off of work, you will find Misty with her husband and their sons. With three boys, she spends a lot of her time at football games and sporting events.

Ashley Hennessy, Certified Pharmacy Technician
Ashley is one of our part time pharmacy technicians. She is a great leader and takes charge the minute that she walks through the door. She is hard working, fast paced, and knowledgeable. We know that we are lucky to have her at Thompsons.
In her free time, Ashley spends her time with her husband and their two children. She also has a car detailing business, Attention to Detail, that she operates when she is not at the pharmacy.

Kathy Brown, Certified Pharmacy Technician
Kathy has been a pharmacy technician for over 20 years. She brings an organized steadiness to the pharmacy that keeps everything running. She is dependable, helpful, and works very hard to make sure each customer is taken care of. If you don't see her up front, she's probably tackling tedious tasks that keep the pharmacy operating behind the scenes.
When Kathy is not working, she is normally with her family and her grandchildren. She loves visiting her grandkids and doing fun things with them.

Jessica Cheever, Retail Management and Relations
Jess manages the gift section and boutique clothing here at Thompsons. She also runs our social media platforms, and she helps out in so many different ways. Jess goes above and beyond in everything that she does, and she will soon be certified as a pharmacy technician.
When she is not working, Jess is spending time with her husband, Craig, and their three daughters. They enjoy being with their friends and family, cooking, and staying active.

Ella Miller
Ella is a student at East Coweta High School. During the school year, Ella works at Thompson's Pharmacy part-time, and she works full time during the summers. You'll find Ella up front greeting and getting to know each customer. We have really enjoyed her working in the pharmacy, and we know our customers appreciate her the way that we do.
In her free time, Ella enjoys spending time with her family and friends.